Toby Roberts Wins Gold In Chamonix
Toby Roberts becomes first British Man to win a Lead Gold Medal since 1990.
Toby Roberts topped the final route to win his first Lead Gold medal ahead of Sam Avezou in second place and Sorato Anraku in third.
What happened
Chamonix qualification round lived up to its reputation of many tops, with nearly every male athlete in the top 26 topping one of the two qualification routes. Four athletes would top both routes, with both routes being topped 28 times. The semi-final was more difficult, with Toby Roberts and Sorato Anraku falling for the double shoulder holds before the top. Masahiro Higuchi forgot to clip the first quickdraw and was called down at hold 7. Sam Avezou and Luka Potocar would sneak in on count back in 7th and 8th, falling at hold 40 alongside three other athletes.
In the final, Luka Potocar made steady progress as the first climber up to just below the headwall. Sam Avezou climbed like a man possessed. He was fast, accurate and efficient. He motored through the route to the headwall until falling two holds from the top, where he had difficulty getting his right foot up and fell off at hold 50. Colin Duffy looked uncomfortable on the route. His feet cut loose unexpectedly several times and never seemed to get into a flow. Only when Sorato Anraku started climbing did we see someone climb with the fluency that Sam showed earlier on the route. Sorato would get onto the headwall section but fall two holds before Sam when he snatched for the volume side pulls.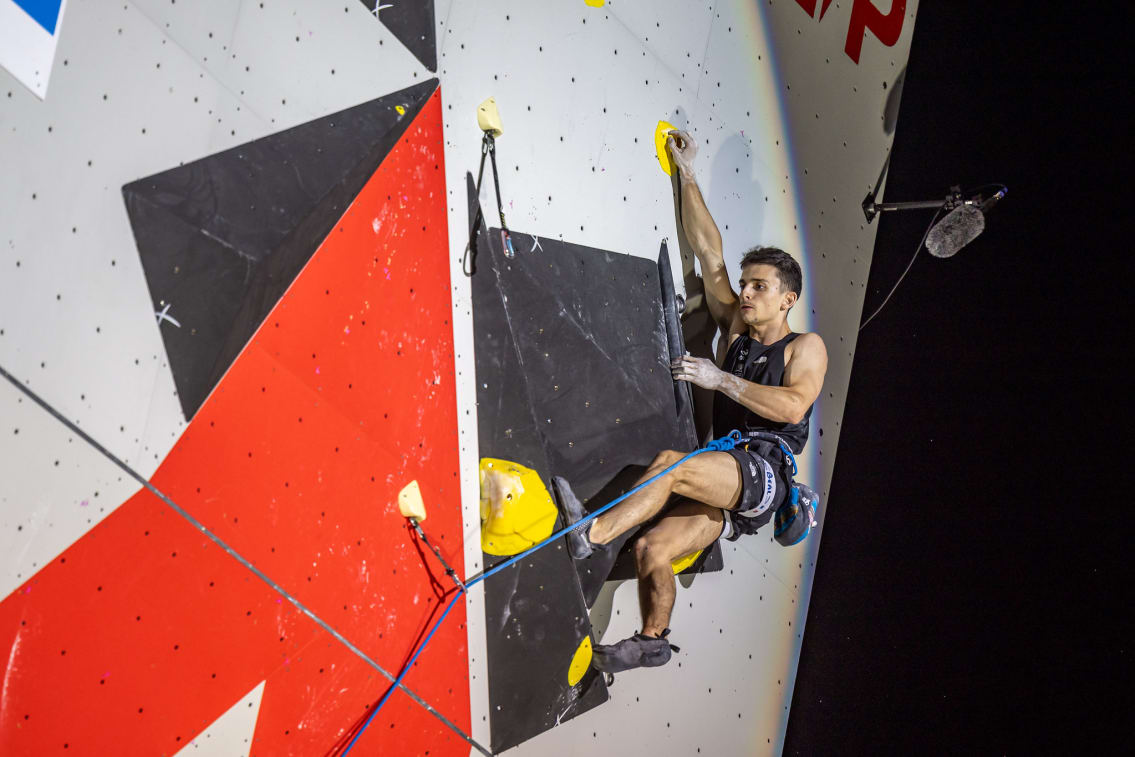 The final athlete out was Toby Roberts, who climbed decisively through the lower sections. He appeared to hesitate on the blind jump to the pocket but would catch it easily once he committed. Toby then battled through to where Sam Averzou fell. Grabbing hold 51, he started celebrating, hyping up the crowd with only the final jump to the top. He makes the jump easily and holds on to the final hold as he erupts with joy and celebrates at the top of the wall.
Analysis
Toby Roberts joins Simon Nadin and Jerry Moffat as the only British male athletes to win Lead World Cup Golds. Nadin and Moffat won gold in the inaugural World Cup season in 1989 . Moffat won in Leads, and Nadin won in La Riba (FRA), Bardonecchia (ITA) and Lyon (FRA). Simon Nadin also won the overall World Cup for the season ahead of Didier Raboutou. Nadin would go on to win gold medals in 1990 as well.
Toby Roberts is among 10 athletes to win golds in both disciplines. The nine other male athletes are Adam Ondra, Salavat Rakhmetov, Jakob Schubert, Sean Bailey, Ludovic Laurence, Colin Duffy, Sean McColl, David Lama & Tomás Mrázek.
Results
Toby Roberts (GBR) Top
Sam Averzou (FRA) 50
Sorato Anraku (JPN) 48
Alexander Megos (GER) 46+
Stefan Scherz (AUT) 41
Collin Duffy (USA) 39+
Luka Potocar (SLO) 39+
Dohyun Lee (KOR) 39