Jain Kim wins Gold in Chamonix
Jain Kim wins her 30th Lead Gold medal in Chamonix
Jain Kim won her 30th Lead World Cup Gold medal in Chamonix 4 years since she last won a World Cup in Inzai 2019. Newcomer Nonoha Kume won Silver at her second World Cup, while Hélène Janicot won her first medal since 2014.
What happened
Despite being registered for the competition, Janja Garnbret, Brooke Raboutou, and Natalia Grossman did not start, choosing to train for the World Championship starting in August instead.
The final would include:
Two South Koreans, Chaehyun Seo and Jain Kim.
Two Japanese athletes, Miho Nonaka and Nonoha Jume.
Two Slovenian athletes, Mia Krampl and Vita Lukan,
Hélène Janicot from France and Jessica Pilz from Austria.
Two technical controversies sandwiched the final.
First, the final did not start on time because the route setters had forgotten to place a hold on the wall. The audience witnessed a routesetter pulling himself up the wall to attach a jug near an extended quickdraw halfway up the route.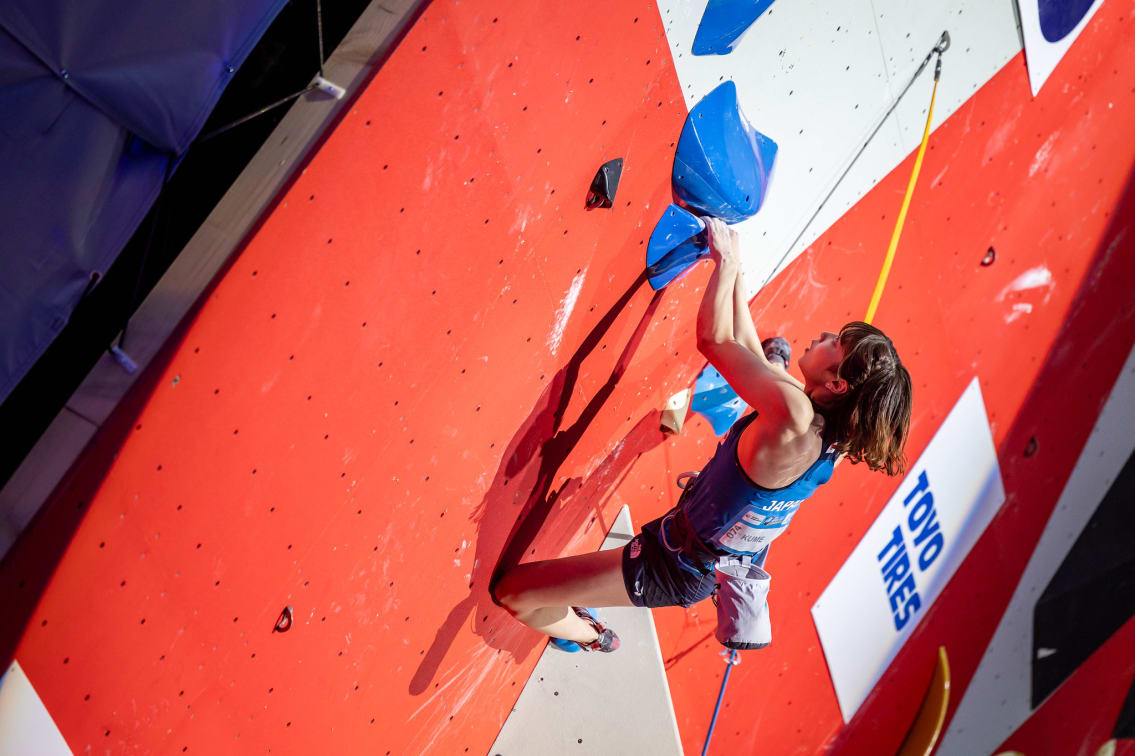 The second technical incident would happen while Chaehyun Seo was climbing. She would climb confidently and quickly up to the extended quickdraw where the new hold was attached. Chaehyun inadvertently clipped the extended quickdraw before the one previously. Realising her mistake, she unclipped it, clipped the previous one and re-clipped the extended quickdraw. During the next section, the rope was pulled taught, and the judges shouted at her to come down.
You have to clip all the quickdraws for safety, which Chaeyhun had not.
She was not the first in the competition to do this. Masahiro Higuchi had found out the hard way in the semi-finals, where he clipped the second quickdraw first and was called down similarly. Chaehyun looked devastated.
Jessica Pilz, Miho Nonaka, Hélène Janicot and Nonoha Kume fell in the same place. Hélène and Nonoha were judged to have controlled the left-hand hold 38 of the pair while going with both hands and awarded a score of 38+ after an appeal. Only Jain Kim would manage to secure both holds, which she did in her trademark static way. She would continue to hold 43+, running out the final quickdraw safe, knowing that the route snaking back on itself would allow her to clip later safely.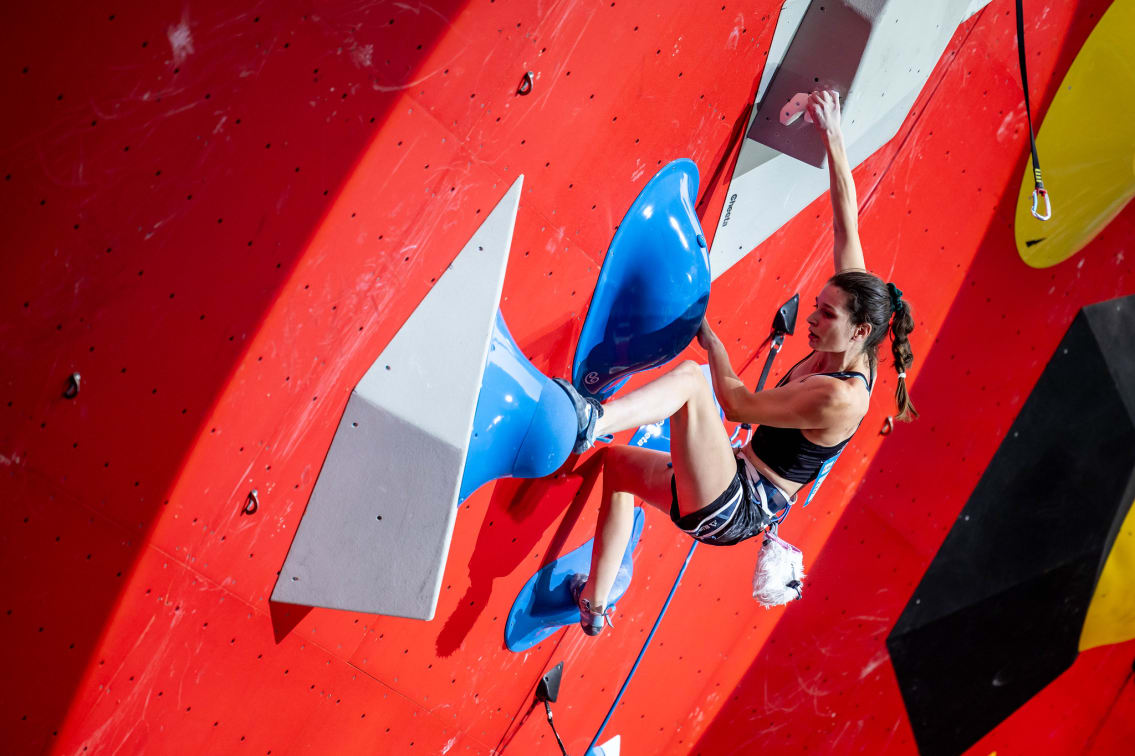 Jain Kim commented in her post-competition interview that "I did not want to win in this way […] The win was bitter sweet". Jain had become a mother in the last 4 years and sent her love to her daughter in Korean.
"I wanted to make my daughter proud, and I think she will be. I'm sure she is in bed right now but when I get back to Korea I am going to give her my medal."
Analysis
Jain Kim has won 30 Lead World Cup gold medals, one Boulder World Cup Gold medal (Milano 2011) and one World Championship Lead Gold medal (Gijon 2014). Her first competition was in Chamonix in 2004.
Jain Kim is the oldest female athlete to win a Gold World Cup medal at 34.
Hélène Janicot started competing in 2009, and this is her sixth medal. After becoming an official IFSC routesetter in 2019, she realised she could still perform on the routes she was setting and returned to the competition circuit in 2022.
Results
Jain Kim (KOR) 43+
Nonoha Kume (JPN) 38+
Hélène Janicot (FRA) 38+
Jessica Pilz (AUT) 37+
Miho Nonaka (JPN) 37+
Mia Krampl (SLO) 33
Vita Lukan (SLO) 29+
Chaehyun Seo (KOR) 22