Miroslaw and Mawem win at the European Speed Qualifier
Two legends of the sport won their tickets to Paris 2024
Aleksandra Miroslaw (POL) and Bassa Mawem (FRA), both Tokyo 2020 Olympians, won their Olympic tickets to Paris 2024 at the European Speed Qualifier in Rome yesterday.
Aleksandra Miroslaw's victory was redemption after she slipped in the semi-final at the World Championship in Bern last month, losing out on an Olympic ticket to Emma Hunt.
In Rome, she appeared more calm and relaxed. After the semi-final presentation, she was not encouraging other athletes off the stage as she had done previously. When preparing to race, she looked more composed than usual.
Something has changed.
Aleksandra ran a new World Record time of 6.24s in qualification and under 6.52s in every run in the competition.
Her slowest time in the competition was faster than anyone else's fastest time. She is that much faster.
In the final, she slipped at the top against Lison Gautron (FRA) in the quarter-finals. Because she had both feet on the hold, she still didn't fall and progressed to the semi-finals.
She would face her compatriots in the semi-final and final: Natalia and Aleksandra Kalucka. First, she would beat Natalia in the semi-final. Aleksandra lost to Natalia at the European Games in Warsaw in June. Miroslaw would then beat Aleksandra Kalucka in the final. Both Kalucka sisters slipped in the final section of the route while Miroslaw had fast, clean runs to win the Olympic ticket.
In her winner's interview, she said
"This was the first time in a long time where I really enjoyed a competition. I finally found a really good mindset and I am really proud of myself. It was emotionally and physically exhausting, but it was worth it."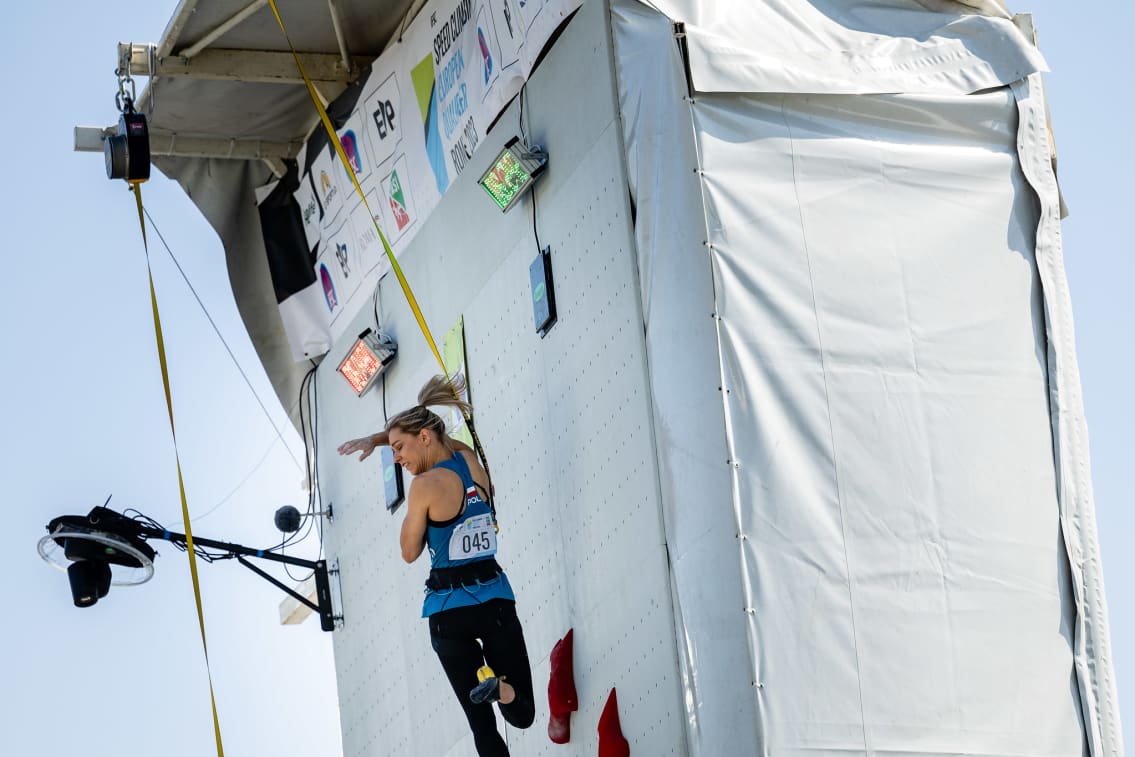 Bassa's competition started with a quick qualification round, finishing 3rd with a time of 5.33s behind Hryhorii Ilchyshyn (UKR) in 5.29s and Pierre Rebreyend (FRA) in 5.26s.
In the final, he first beat Raff Stokes (GBR) comfortably to reach the quarter-final round. Ukrainian Yaroslav Tkach false started in the quarter-final round, allowing Bassa to pass through uncontested to the semi-final round.
By the semi-final round, the two athletes with the fastest PRs, Pierre Rebreyend and Ludovico Fossali, had been knocked out. The semi-final round was made up of two legends of Speed climbing, Bassa Mawem and Marcin Dzienski (POL), and two newcomers, Hryhorii Ilchyshyn (UKR) and Leander Carmanns (GER).
Bassa would beat Hryhorii Ilchyshyn in a close race, 5.30s to 5.39s, equalling his PR.
Marcin Dzienski and Leander Carmanns would draw in the other semi-final, both with a time of 5.368s. Both celebrated simultaneously before confusion and bewilderment set in as they noticed the other athlete had the same time. They would race again after the mandatory wait time had elapsed. Both athletes were even faster, both setting new PRs. Marcin would be faster, winning 5.27s to 5.31s.
Although Marcin was faster on paper in the final, Bassa took the lead early on and extended it through the run, winning in a time of 5.281s, a new PR, over Marcin's 5.345s.
In his winner's interview, Bassa said
"I am very happy to have two chance at the Olympics. I want to finish my career at the best event and now I can and I am very happy for that. In Tokyo it was really hard when I got injured, but I came back. Now the only thing I want is to be at my best in Paris."
Results
Women
Aleksandra Miroslaw (POL)
Aleksandra Kalucka (POL)
Natalia Kalucka (POL)
Men
Bassa Mawem (FRA)
Marcin Dzienski (POL)
Hryhorii Ilchyshyn (UKR)