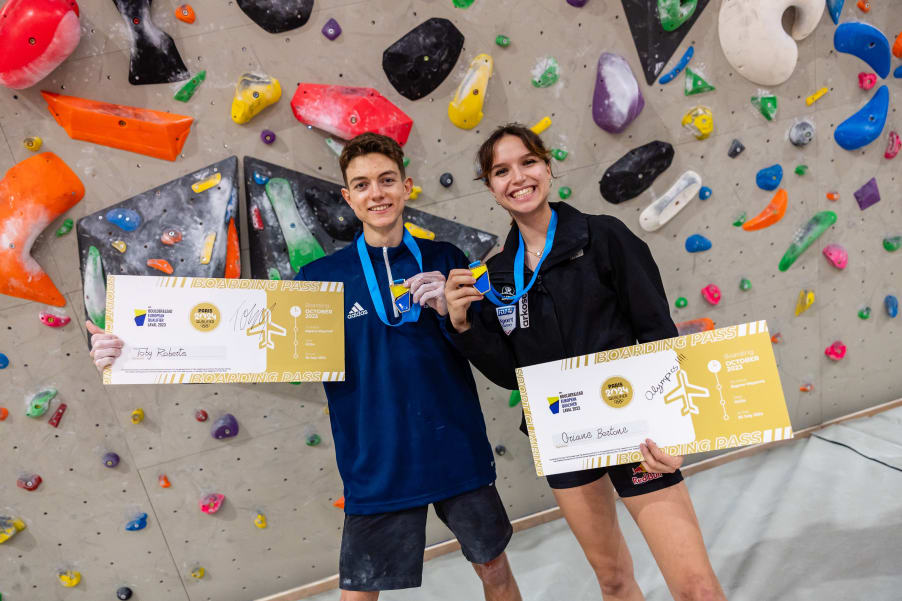 European Boulder&Lead Olympic Qualifier Key Takeaways
Bertone and Roberts win, trouble for Ondra and the resurgence of Rogora and Ginés López
LAVAL, FRANCE — While Toby Roberts and Oriane Bertone won their Olympic ticket last weekend, much more happened in Laval.
We saw the resurgence of Alberto Ginés López, who looked like his pre-Olympic self again with strong performances in both Boulder and Lead. Laura Rogora also returned to form, nearly topped the Lead route and finishing 3rd. Adam Ondra looked in trouble on all three lead routes in Laval. Adam finished 4th just outside the medals due to Sam Averzou scoring more point in Boulder than Adam in Lead.
Here are the main takeaways from the European Olympic Qualifier in Laval.
Oriane Bertone's almost perfect boulder round secures her an Olympic Ticket
Oriane Bertone's win was built on an almost perfect final boulder round, where she scored 99.9 points.
She flashed three out of the four problems. Only the second problem on the slab gave her cause to pause before she topped it on her second attempt. Going into the Lead round, she had a lead of 15.5 points over Stasa Gejo. With both Oriane and Stasa being Boulder specialists with similar results in Lead World Cups, Oriane was favoured to win the competition going into the Lead round. On the Lead wall, Stasa would climb hesitantly, never quite getting into the flow, while Oriane would climb confidently in flow.
Oriane commented on the lead climb.
"I was trying to pay attention to the crowd's reaction whenever I was grabbing a new hold I was thinking"
"'Is it this one? No.' 'Is it the next one? No.' "
"And when I took the one I heard everybody go crazy, I turned my head so that I could see the screen and saw my name up there. I don't even know what to say, I'm crazy happy."
Oriane would finish 8 points ahead of Stasa in Lead, scoring 72 points over Stasa's 64.
Oriane's win was built on her boulder performance, which she sealed with her lead performance. Even if Stasa had matched her in the bouldering round, Oriane would have won the Olympic ticket because of her lead performance.
Toby Roberts came out last to top the Lead route to win his Olympic ticket
Unlike Oriane, Toby Robert's Lead performance won him his medal, topping the route after staying in contention from the boulder round.
In the boulder round, Toby kept in contact with the rest. He finished 2nd with 69.8 points, only 15 points behind Sam Averzou, who won the round with 84.8. Alberto Ginés López, Mejdi Schlack and Adam Ondra were just behind Toby, with 1.1 points separating all four athletes.
It would come down to the lead wall.
Sam Averzou would struggle on the lead, scoring only 48.1 points. Toby would need 64 points to overtake him, the first hold in the top section of the route. Alberto Ginés López went earlier and scored 64 points, overtaking Sam. As Toby finished 0.1 points ahead of Alberto in the Boulder round, Toby only needed to reach the same point on the Lead wall as Alberto.
He did just that. And much more.
When Toby was on the final section of the wall, he encouraged the crowd to cheer him. The final move to the top required a Laché swing, a move which was Toby's undoing at the World Championship in Bern. This time, he made the move, topping the route.
He did it. Toby became the first British Male athlete ever to qualify for the Olympics in sport climbing.
After the event, he said, "I have literally no words now. I don't think is ever going to sink in. Coming into this event, I tried not to have any expectations and just enjoy climbing. It is such a big dream for me, I've been training for it for so long."
"I came so close to it in Bern, but I think I let the pressure get the best of me there, and my weaknesses got exposed. So the aim going away from Bern was to work on my weaknesses, come into this event with a clear head and just enjoy the climbing."
Resurgent Alberto Ginés López and Laura Rogora win medals
We saw the resurgence of Alberto Ginés López and Laura Rogora at the event.
Both have had difficult seasons this year, with Alberto only reaching the podium in Koper after a 24th place in Bern and 54th place in Villars — a far cry from being a regular finalist and podium contender we saw in 2019 and 2021.
Alberto had a solid Boulder round, finishing only 0.1 points behind Toby Roberts in 3rd. Combined with his 64 points in Lead, it was enough for him to secure second place.
Alberto wrote after the event in Laval "This has been the first time I've cried for being second in a comp, for the first time since 5th of August of 2021 I have believed in myself, I've found that competitive Alberto that I used to be and I've enjoyed the comp as I used to do."
Alberto has enough points for the Olympic Qualification Series, so he will get another chance to return to the Olympics next year.
Laura Rogora has also had a difficult season.
Her best performances this year were 6th in Koper and 7th at the World Championships. She missed out on the final in Chamonix, Villars and Innsbruck. The last final she missed in Lead was back in 2019.
On the Lead route, she showed us why she has 2 gold and two silver World Cup medals in Lead, reaching the second-to-last hold and scoring 96.1 points. Twenty-four points more than anyone else. But because Laura only scored 49.6 points in the Boulder round, she would finish in 3rd place.
She showed everyone she was the best Lead climber at the competition. She wrote after the event
"There was only one ticket at stake for the whole Europe, I knew it would have been extremely hard to grab it but what I didn't know before the comp was that it was actually possible and this give me the motivation to keep dreaming for next year!"
"After the disastrous round in Bern where I couldn't manage the fatigue of the combined format I worked a lot on my weaknesses and I am extremely proud of the progression I made in these months."
Adam Ondra struggles on Lead in Laval
Adam Ondra struggled on the lead routes throughout the competition.
In the qualification round, he was 6th in Lead with 76 points behind Yannick Flohé, Sam Avezou, Martin Bergant, Alberto Ginés López and Toby Roberts. The semi-final round was better, finishing second behind Toby while he was joint third in the final. In each round, Adam scored more points in bouldering than he did in Lead.
This is not the Adam Ondra we know, who has won three World Championships and 16 gold medals in Lead.
Adam wrote after the event, "The result in Laval is not what I was hoping for, this competition season 2023 was not what I was hoping for. Surprisingly consistent results in boulder, and always disappointing performance in lead."
Adam only has the Olympic Qualification Series in May and June next year to qualify for the Olympics. He will need a return to past Lead form to qualify for the Olympics and have a chance of winning a medal ahead of Jakob Schubert and Toby Roberts.