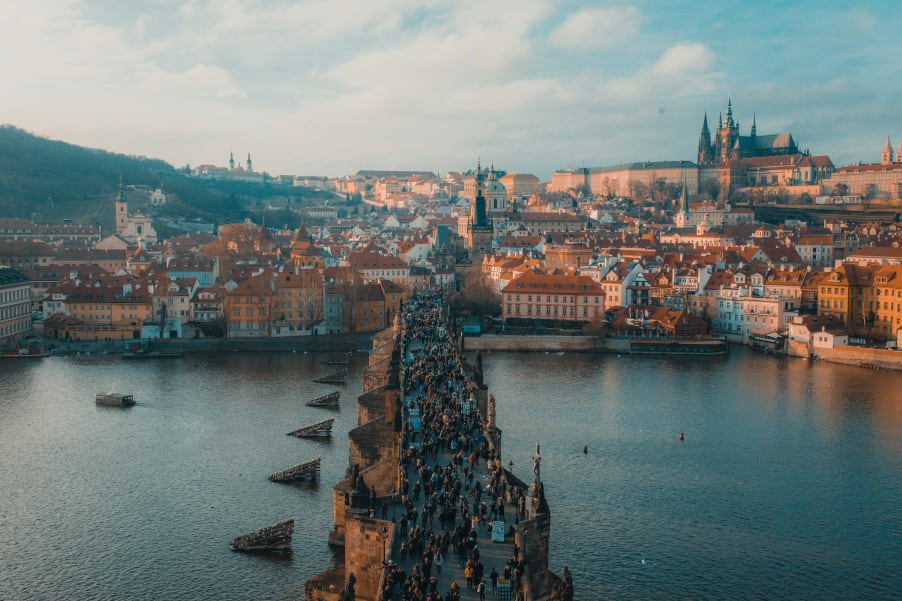 Prague Boulder World Cup Preview
The return of Adam Ondra and Janja Garnbret
This weekend the World Cup circuit returns to Europe with the Prague Boulder World Cup in Czechia. Prague successfully hosted a Boulder European Cup last year, we return this year for a full World Cup. We will see the return of Adam Ondra and Janja Garnbret to the World Cup Circuit for the first time this season. Can Janja make it 4 different world cup winners in 4 competitions for the women? Adam's last Boulder World Cup win was in Salt Lake City 2021. How will compare to the latest young climbers including the dominant Mejdi Schalck.
So far the World Cup circuit has seen an exciting start to the season. We have seen new holds, new moves and with Prague with visit a new city for a Boulder World Cup. On the women's competition, we have seen a different winner at every competition so far. For the men, we have seen the arrival of Mejdi Schalck, who looks on another level. Tomoa Narasaki's win in Salt Lake City puts him in first place for the overall ranking ahead of Mejdi with Hannes Van Duysen in 3rd. The three gold medalists in the women make up the top 3 ranking for women overall, with Brooke Raboutou in first place due to her consistency over the 3 rounds (1st, 3rd , 3rd), Natalia Grossman in second and Miho Nonaka in third. Each of these World Cups have offered athletes the chance to gain ranking points towards the combined Boulder&Lead ranking which will determine who will be invited to the Olympic Qualification Series next year.
Who to Watch
Adam Ondra returns to competition for the first time since the European Continental Championship last August in Munich where he won Gold in Lead, Silver in Boulder&Lead combined and Bronze in Boulder. Though, Adam has attended world cups sporadically over the years, he has been competing on the circuit since 2009 and has won 7 Boulder World Cups. You would be a fool to write him off.
Mejdi Schalck returns after his domination in Japan and South Korea and will hard to stop. The style in which he won the two competitions makes him one of the favourite for this this competition. He looks on a completely different level to last year and compared to everyone else.
8 Japanese men will also be attending, including the gold medalist from Salt Lake City, Tomora Narasaki, the rising start of Japanese climbing, Sorato Anraku, and Kokoru Fuji will return after picking up injury in Seoul qualification.
On the women's side, Janja Garnbret returns to competition after recovering from foot surgery. Despite not competing this year, she is the run away favourite to win the competition. Janja is not registered for Brixen next weekend, but she will be back in Innsbruck for both Boulder and Lead competitions.
Last competition in Salt Lake City, we saw the return of Natalia Grossman, topping all of the boulders and flashing 9 of them, showing a return to her form of the 2021/2022 season. However, Natalia has pulled out from attending in Prague, but she is currently registered for Brixen and Innsbruck.
Other notable absences for the women include Hannah Meul, Brooke Raboutou, Annie Sanders, Anon Matsufuji and Fanny Gilbert. With so many absences, Oriane Bertone, Miho Nonaka and Ayala Kerem are the ones to watch below Janja.
Weather
The World Cup is being held outdoors so the weather will play an important factor. Fortunately, it looks like we will have a sunny and dry weekend with a nice breeze.
Friday Sunny and 20C, 25% chance of rain, 28 km/h winds, 87% humidity.
Saturday 17C, no rain, 15 km/h wind, 79% humidity
Sunday 20C, no rain, 19 km/h wind, 75% humidity
Where to watch and When
The semi-finals and finals will be streamed live at
Saturday 3rd June: Men Bouldering Semi-Finals and Finals (12pm & 8pm CEST/6am EST & 2pm EST)
Sunday 4th June: Women Bouldering Semi-finals & Finals (12pm & 7pm CEST/6am EST & 1pm EST)
Eurosport and Eurosport Player within Europe
ESPN Latin America and the Olympic Channel for central and South America
TVRI in Indonesia
The IFSC YouTube Channel for other countries You will be able to catch up on the competition 24 hours afterwards on the Olympic Channel.