Prodigy Anraku Wins Everything
Sorato Anraku wins gold in Innsbruck to become the youngest winner of the Boulder World Cup Season.
Sorato Anraku delivered on the promise he had shown throughout the season to earn his first gold medal. He became the youngest-ever competitor to win the Boulder Overall World Cup title at 16, matching Adam Ondra's Lead Overall World Cup win in 2009. He also becomes the second youngest male athlete to win a Boulder World Cup between David Lama and Adam Ondra.
In contrast to the women's, the men's finals featured some unexpected faces, with Nicolas Collin and Simon Lorenzi from Belgium and Sam Avezou from France starting in the final. They are joined by Meichi Narasaki from Japan in his second final this year alongside Jongwon Chon. Sorato Anraku made his fourth finals of the season. We got to hear Cody Gronzki, one of the route setters at the competition, co-commentating alongside Matt Groom again for the third time this season. The insights and inside perspective allows us to understand the why behind each boulder. Louise Flockhart from Team Great Britain jumped in for Boulder 2 to provide an athlete's perspective.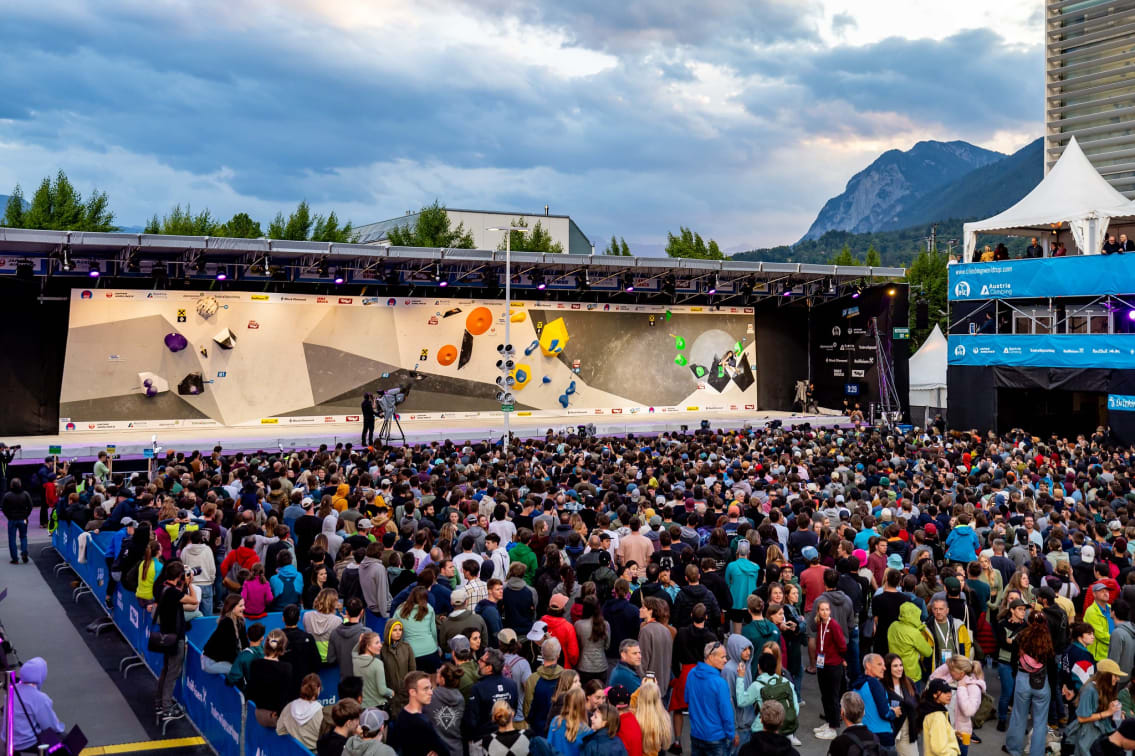 The first boulder required athletes to execute precisely and not make any mistakes. It included a press facing the crowd before a jump to a jug. It finished with a technical mantle Sorato, Meichi, and Jongwon would flash the boulder. Sam and Nicolas would need 2 attempts to top. Simon could not repeat his stellar performance in the semi-finals, where he topped all four boulders and could not even reach the zone on the first boulder.
The second boulder was the hardest of the round. It required powerful movements on bad Rock City Orange slopers. The move to the zone required either a powerful campus move or a tricky coordination foot stab. Only Sorato came out first and performed the powerful sequence to reach the zone. On his third attempt, he would work out the delicate pop to the finish hold to be the only athlete to top the boulder.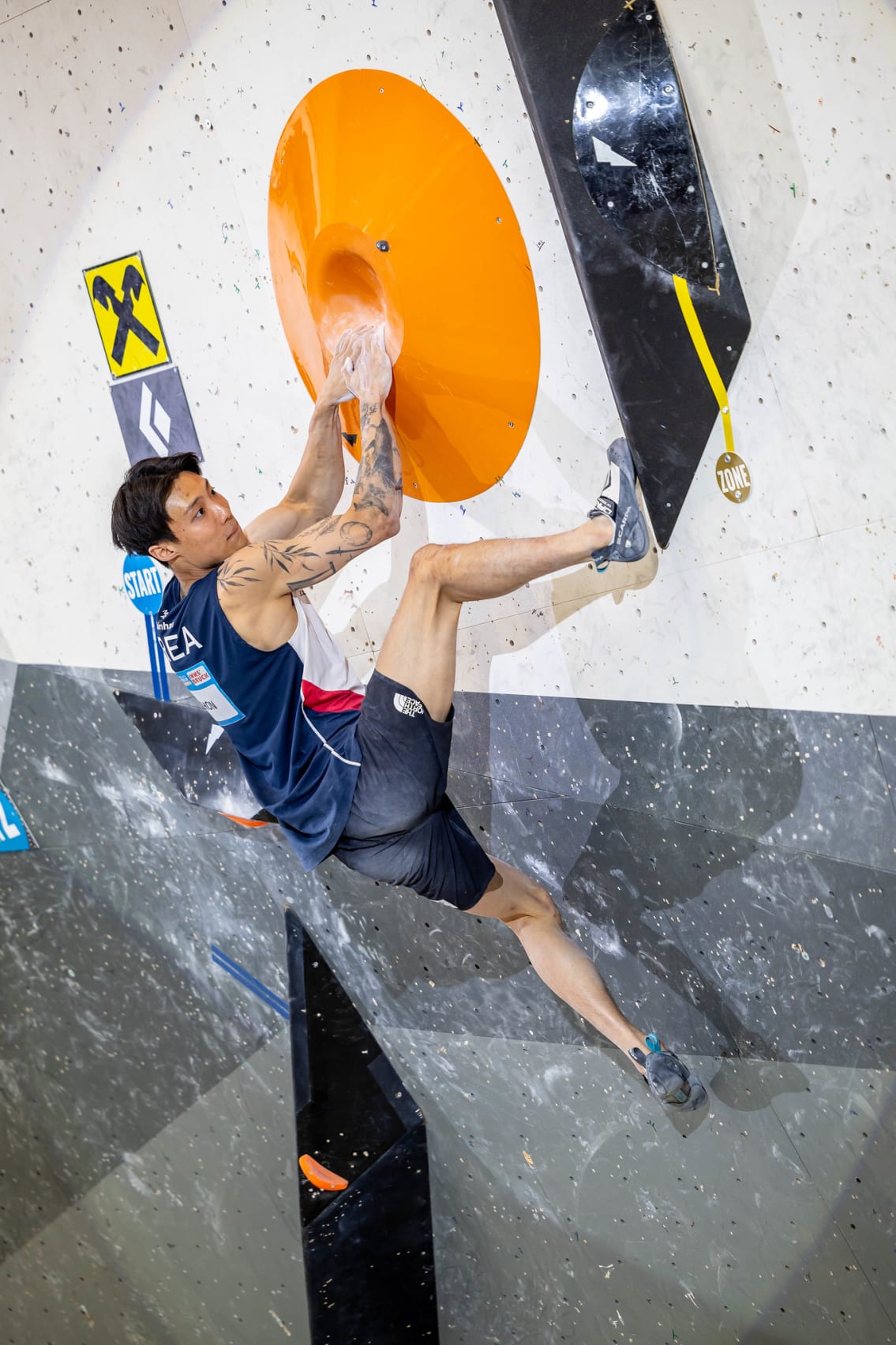 The third bolder was the slab which included a new move. It required an athlete to rotate 180 degrees balanced on their left foot so they face out towards the crowd and then rotate back in to reach the zone, essentially the last hold. Despite Sorato's impressive performance on Boulder 2, he could not work out the 180 move and failed to reach the zone. Only Sam Avezou and Meichi Narasaki would work out the sequence and top out the boulder using different methods. Sam managed to rotate his shoulders to allow him to face the side while Meichi used every centimetre of his 187cm height to reach over.
It all came down to the final boulder between Sorato, Meichi and Sam. The final boulder was a powerful coordination boulder with athletes rolling over a straight left arm to jump to the higher holds. They would then need to re-direct their hips so their foot could bump against a hold to reduce the swing. The final move from the zone was a "straightforward" paddle to a 5mm edge. The sequence to reach the zone was complex. It took Sorato and Meichi 7 attempts and Nicolas and Jongwon 5 attempts. All of them reached the top after reaching the zone hold. Sam Averzou could not unlock the sequence and would have to settle for bronze. Sorato would win gold on attempts to top ahead of Meichi after Meichi took 7 attempts on Boulder 3 and 7 more on Boulder 4.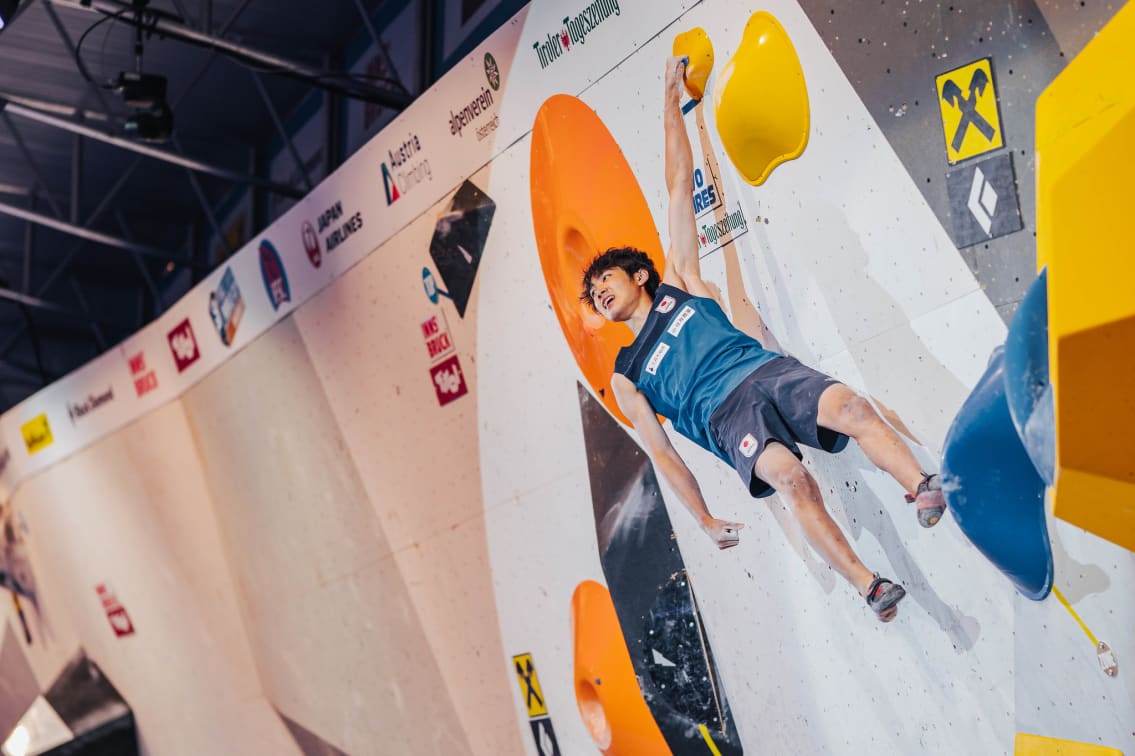 Final Scores

| Rank | Athlete | Country | Score |
| --- | --- | --- | --- |
| 1 | Sorato Anraku | JPN | 3T3Z 11 9 |
| 2 | Meichi Narasaki | JPN | 3T3Z 15 11 |
| 3 | Sam Averzou | FRA | 2T2Z 4 3 |
| 4 | Jongwon Cho | KOR | 2T2Z 6 6 |
| 5 | Nicolas Collin | BEL | 2T2Z 7 7 |
| 6 | Simon Lorenzi | BEL | 0T0Z 0 0 |
Sorato's win vaulted him into first place overall, ahead of Dohyun Lee with 4 finals and 2 medals, and he became the youngest winner of a Boulder World Cup Season, aged only 16. Dohyun Lee would take second thanks to his Gold in Prague, Silver in Brixen. Tomoa Narasaki was third, thanks to his Gold in Salt Lake City and strong performances earlier in the year.
Boulder 2023 Overall Rankings

| Rank | Athlete | Country | Hachioji | Seoul | SLC | Prague | Brixen | Innsbruck |
| --- | --- | --- | --- | --- | --- | --- | --- | --- |
| 1 | Sorato Anraku | JPN | 5 | 29 | 2 | 7 | 5 | 1 |
| 2 | Dohyun Lee | KOR | 7 | 4 | 39 | 1 | 2 | 14 |
| 3 | Tomoa Narasaki | USA | 10 | 2 | 1 | 10 | 6 | 11 |
Sorato had been threatening all season to win a world cup. Despite being 16 and in his first world cup season, he looked at home in a boulder final and maintained his form over the whole season, only once slipping out of the top 10. "I'm really just happy," Sorato said after the competition. "I'm proud to win the championship and finish on top of the yearly rankings in my first World Cup season." He won the combined Japan Cup earlier this year, so watch out for him at the World Championship in Bern in August.