Sorato Anraku and Ai Mori Win Gold in Wujiang
Japan dominate the last Lead World Cup of the season
Sorato Anraku (JPN) and Ai Mori (JPN) won their third Lead World Cup gold medals as Japan dominated the World Cup in Wujiang, China, winning 5 out of 6 Lead medals.
Jessica Pilz (AUT) was the only non-Japanese athlete to win a medal. Her silver medal was enough to move ahead of Janja Garnbret (SLO) and win her first overall Lead World Cup title, with Janja Garnbret second and Vita Lukan (SLO) third.
Ai Mori Wins Her Third World Cup Gold
The absence of Janja Garnbret opened up the opportunity for other athletes to shine, and Ai Mori took advantage. She had finished second behind Janja at the two other Lead World Cups she has attended this season.
Ai was the only athlete to reach the lip of the headwall, eight holds from the top, climbing in a smooth and controlled style. Her win would be enough to move her into 4th in the Lead World Cup overall standings. She is now the most successful Japanese female Lead climber with 3 World Cup wins.
She said after the competition:
"Before climbing I was very nervous, but now I've won I'm very happy. I feel a lot of pressure, mostly that I put on myself, I just don't feel confident. But if I don't have confidence in myself I can't win, so I have to tell myself a lot I can do it."
Jessica Pilz needed to finish fourth place or better to overtake Janja in the Lead World Cup overall.
Coming out fifth, she needed to navigate the compression section on black dual-tex fibreglass and reach hold 23, just over halfway. Though there was a tricky moment as she entered the black section of the wall, she reached hold 23, guaranteeing herself fourth place and the overall title.
She continued through the traverse section, falling in the red sloper section, enough to win her second silver medal of the season.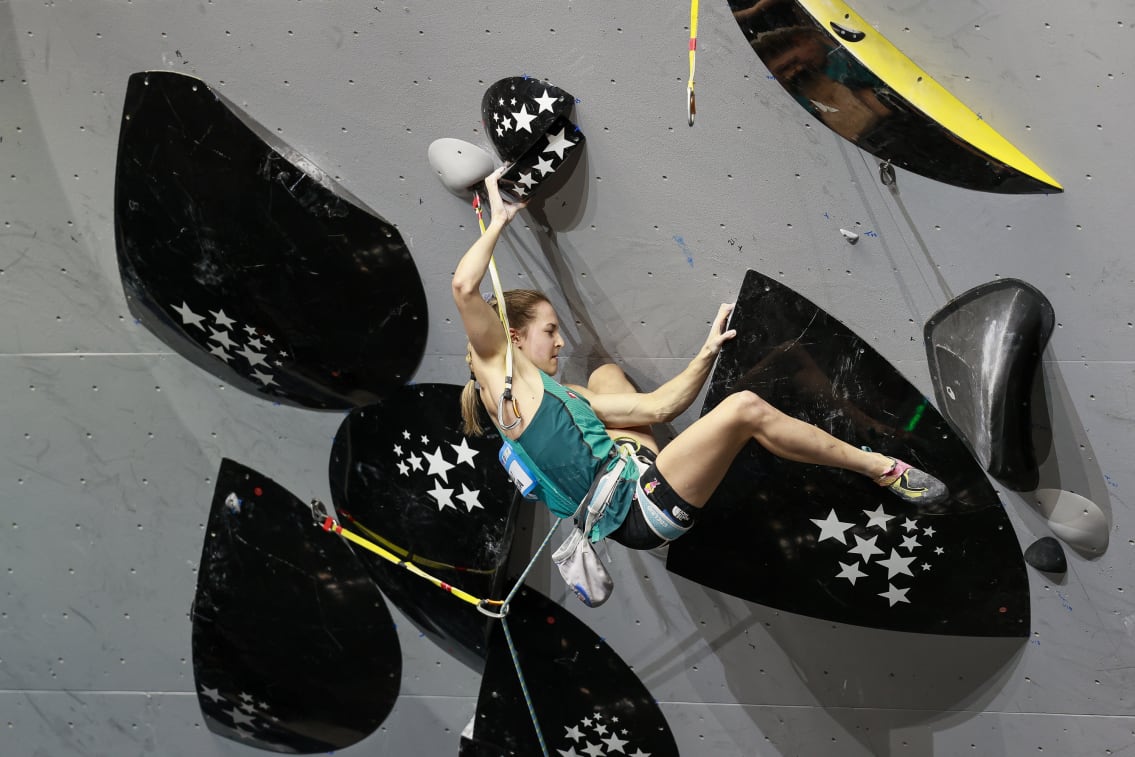 On Instagram after the event, she wrote
"Traveling to China for the last World Cup was a hard decision, but I am glad I did. I knew I had this little chance for the overall title if I performed really well. Definitely felt the pressure I put on myself with this little mission, but maybe that's what I need sometimes 🙃 This title has been on my wish list since I started competing in World Cups 10 years ago 👵 What a way to end a long and wild season."
Natsuki Tanii (JPN) was the only other athlete to navigate the compression sections before becoming unstuck on the traverse as she got stuck in a drop knee she could not get out of. This was enough for the third, winning her second World Cup medal.
Vita Lukan needed to finish fourth place or better to move ahead of Janja Garnbret in the Lead World Cup overall. However, a mistake in the semi-final was costly as she missed a jib on a volume and fell, finishing 12th. She would still finish third in the Lead World Cup overall based on her win in Briançon and third place in Koper.
Sorato Anraku Makes it 3 Golds
Sorato Anraku continued his domination on the World Cup circuit with his 3rd win of the year, extending his lead in the Lead World Cup overall.
He was tied with Taisei Homma in the qualification and semi-final rounds after both topped the semi-final route. They would be separated on time if they tied in the final. Sorato navigated the tricky clip in the red section, which caught Yoshiyuki Ogata and Taisei Homma out. He was the only athlete to reach the headwall.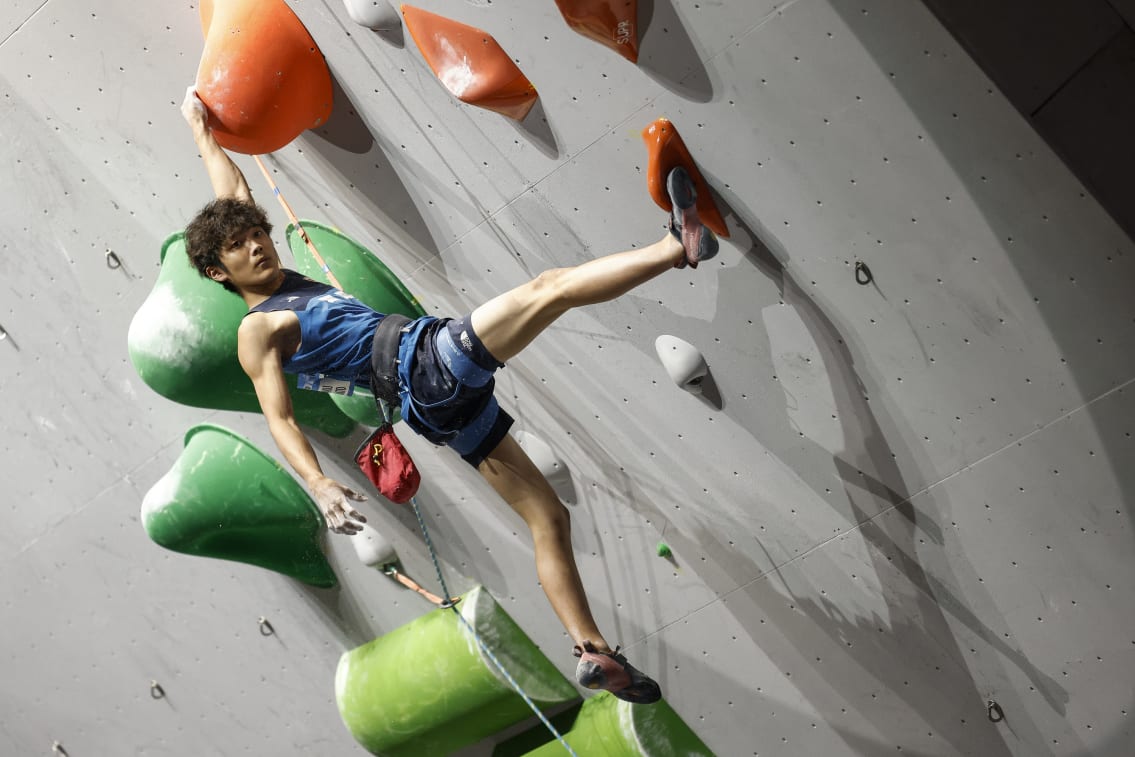 He told the IFSC
"I'm just happy to win another medal here in Wujiang. I'm frustrated not to top the route though. I have the Asian Games next week so I will try there. I love climbing and I don't want to stop. I'm going to carry on forever."
Shion Omata managed to get four holds higher in the red section than Taisei Homma and Yoshiyuki Ogata to win the silver medal, his first IFSC World Cup medal. His second place in Wujiang also moved him into fourth in the Lead World Cup overall.
Taisei Homma would get caught out by a tricky clip, just like Yoshiyuki Ogata, and finished third after joining first in qualification and semi-finals. His third place in Wujiang would be enough to move him into third in the Lead World Cup overall.
Though Alex Megos did not compete in Wujiang, he had enough of a buffer to win second place in the Lead World Cup overall.
Results
Women
Ai Mori (JPN)
Jessica Pilz (AUT)
Natsuki Tanii (JPN)
Men
Sorato Anraku (JPN)
Shion Omata (JPN)
Taisei Homma (JPN)