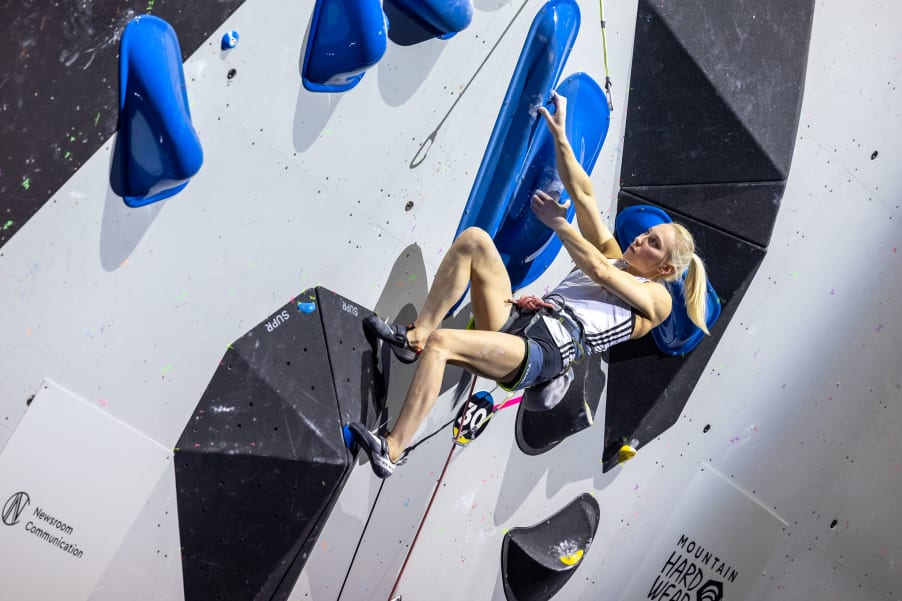 Bern World Championship Highlights
Who got an Olympic ticket to Paris 2024?
The Bern World Championship finished after 11 days of climbing. Athletes competed in Boulder, Lead, Paraclimbing, Speed and the new Boulder&Lead format. We saw 10 Olympic tickets given out and 28 gold medals awarded, including 20 in Paraclimbing. Winning a World Championship is a major achievement for any athlete. Still, an Olympic ticket was the prize many athletes were focused on.
10 Olympic Tickets Given Out
At the World Championship, we saw the first 10 Olympic tickets given out, 4 in Speed and 6 in Combined.
The first athletes to be given Olympic tickets were in Speed, where Desak Made Rita Kusuma Dewi from Indonesia, Emma Hunt from the USA, Matteo Zurloni from Italy and Long Jinbao Chian would win the Olympic tickets. Both World record holders, Aleksandra Miroslaw and Leonardo Veddriq, would miss out due to slips in the semi-final and last 16 rounds.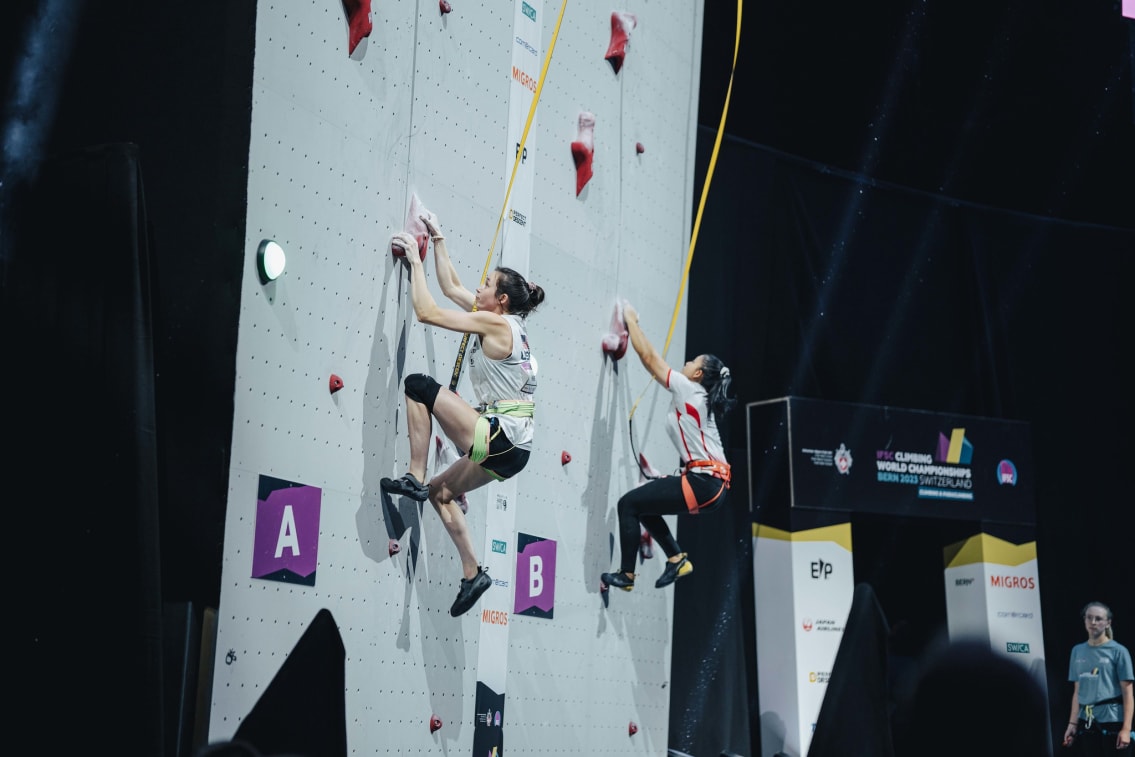 In the women's Boulder & Lead combined, Janja Garnbret from Slovenia, Jessica Pilz from Austria and Ai Mori from Japan would win the Olympic tickets and medals. Janja dominated the boulder round, being the only person to top more than 2 boulders, scoring 84.9 points. The final boulder did elude her, though. Only Miho Nonaka would top it in the round. A second place in Lead with 92.1 points would guarantee her win with 177 points, 19.9 points over second place.
Jessica Pilz pulled off a strong performance in the Boulder round, coming third on 69.0 points, only 0.8 points behind Brooke Raboutou, and a fourth-place finish in Lead with 88.1 points was enough to secure her the silver medal with 157.1 points.
Ai Mori needed a good performance in Lead after coming 6th in Boulder with 44.5 points, getting only one top and some zones. Ai would get the highest on the lead route, falling while going for the top hold. She scored 96.1 points in Lead to come third overall, 2.8 points ahead of Brook Raboutou, less than a single hold worth of points on the Lead headwall.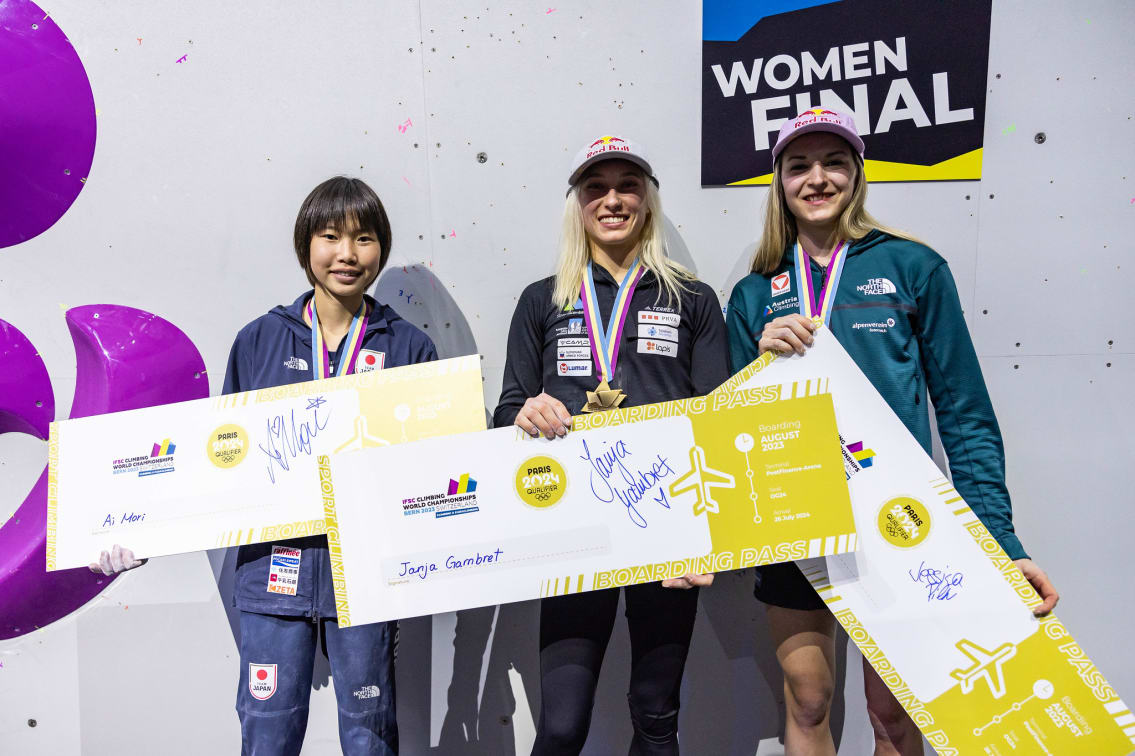 In the Mens combined, Jakob Schubert from Austria, Colin Duffy from the USA, and Tomoa Narasaki from Japan would win the Olympic tickets and medals. Jakob dominated the Boulder and Lead rounds, coming second in Boulder only 0.1 points behind Tomoa Narasaki on 99.6 points. He would finish first in Lead, scoring 84 points and finishing with 183.6 points, 22.9 points ahead of second place.
Colin Duffy would perform far better in Boulder than we would have expected. He finished 4th in the Boulder round with 84.7 points and second in the Lead round with 76 points, which would be enough to push him to second with 160.7 points.
Tomoa Narasaki showed his experience in the Boulder round, flashing three boulders and topping the fourth to score 99.7 points in a high-scoring round. He reached the first crux of the Lead route at holding 35 to score 57 points, 1 hold before the headwall. His score of 156.7 was enough for an Olympic ticket in 3rd place, placing him 8.6 points ahead of fourth place.
Cruelness of Speed
At the World Championship, Speed showed itself to be the cruellest of all three disciplines. There were many slips due to the lack of friction on the wall. Samuel Watson and Ludovico Fossali suffered the most, with both recording times above 8 seconds in qualification and not making the final, despite sub-5.1-second PRs. The male qualification round was the 3rd slowest qualification round of the year, only ahead of Seoul and Salt Lake City. The women's qualification round was the 2nd slowest qualification of the season: only faster than Jakarta.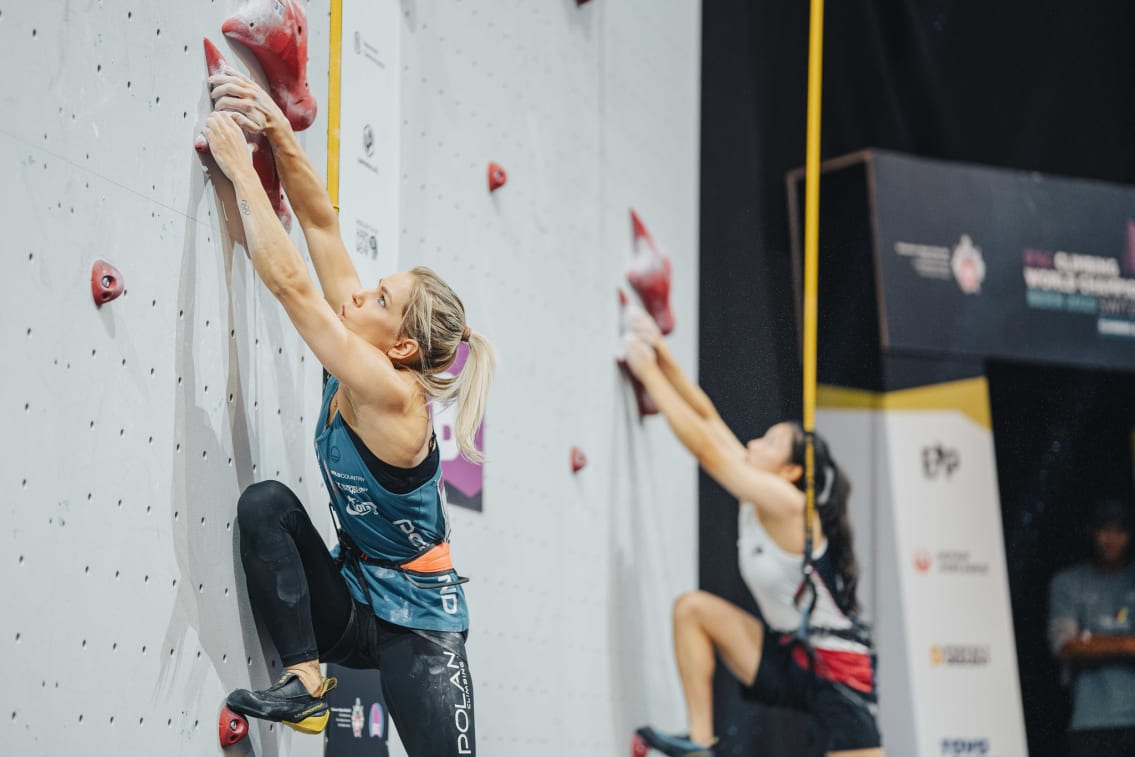 In the women's final, the pressure would build with Natalia Kalucka (POL), Lijuan Deng (CHN), Di Nui (CHN), Nural Iqamah (INA) and Jimin Jeong (KOR) early casualties in the women's semi-final, with a fall, slips and other athletes stepping up a notch with 5 runs under 7 seconds.
The race between Desak and Aleksandra Kalucka was much closer, with Aleksandra ahead until she slipped just before the top section of the wall. Desak remained composed as she descended from the top, staying in the zone with one race left. Aleksandra Miroslaw would regroup and win the bronze medal, just like at the 2021 World Championship. In the final, it was a close race, with Desak going under 6.5 seconds again and Emma setting a new Pan-American record at 6.67 seconds.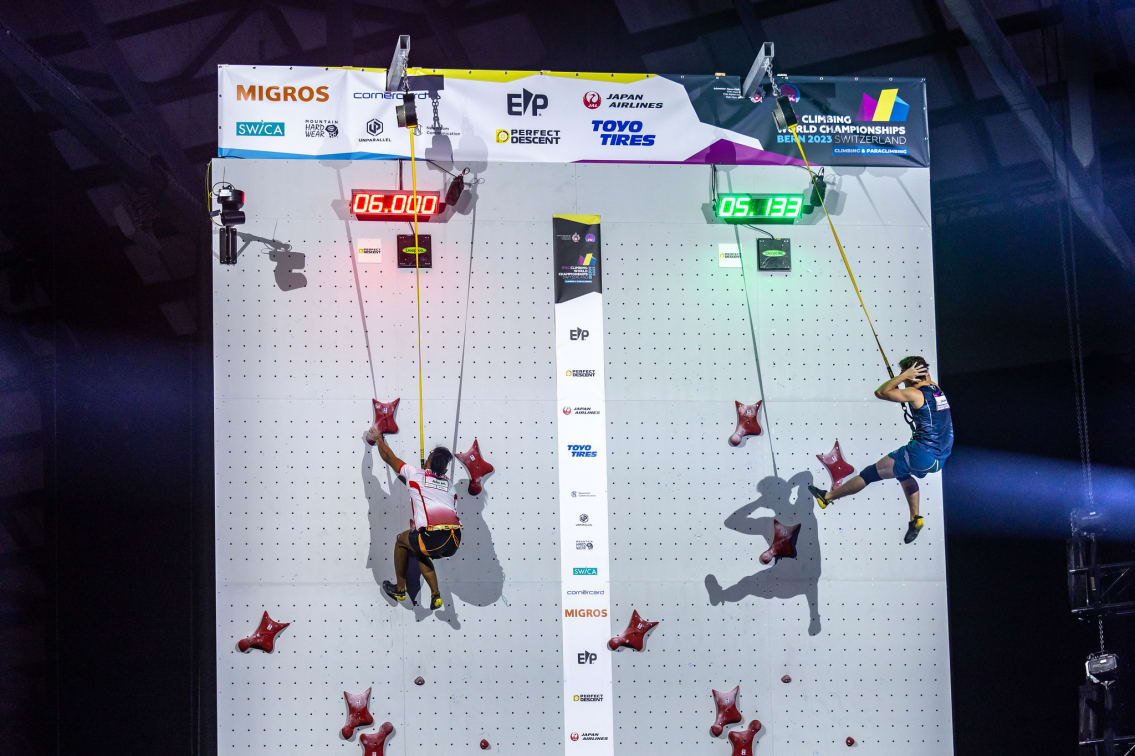 While we saw no World Records set or either World Record holder win an Olympic ticket, we did see how unpredictable Speed can be. It is not just being the fastest.
Dealing with the Pressure Cooker
The World Championship was a high-pressure event where some athletes thrived under pressure while others faltered.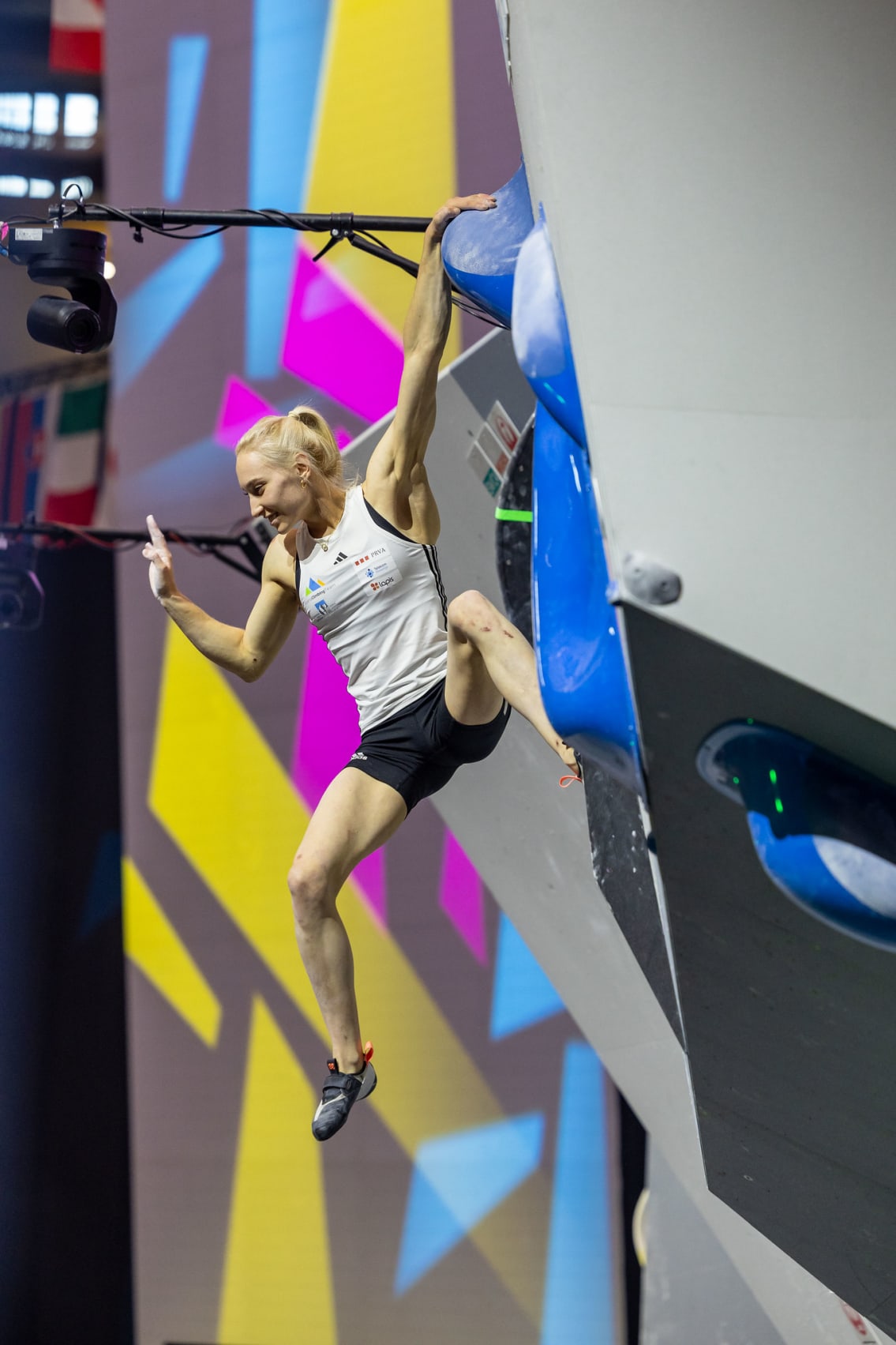 I feel incredible and relieved at the same time. It feels so amazing today. I felt so composed today actually, I was climbing the Lead route flawlessly and I am just incredibly happy right now that I have qualified, even though I have qualified once before, you don't get tired of this feeling of qualifying for an Olympics. So, my second Olympics – here we go.
Ai Mori also delivered on her reputation as one of the best Lead climbers of the moment with strong lead performances in both the individual event and combined, where she got the highest on all semi-final and final routes. She was extremely excited to have won, commenting after the Boulder&Lead combined,
I was nervous but when I climb I get excited. I wanted to reach the top, but getting the Olympic ticket makes me very happy." Ai did not qualify for Tokyo 2020 after finishing 6th in Hachioji behind Akiyo Noguchi and Miho Nonaka, who were both given Olympic tickets for Japan.
Jakob Schubert also thrived under the pressure as he shifted into another gear for this competition. He topped 4 out of the 5 qualification boulders and finished mid-pack in the Boulder semi-final: a stand-out performance after only reaching one semi-final this year. In Lead, Jakob showed us why he had previously won 3 gold World Championship medals, staying composed and climbing smartly to win his fourth gold World Championship medal, more than any other male athlete. In the highest-pressure event of the World Championship in the Boulder&Lead combined discipline, he delivered, topping 4 boulders and finishing highest on the lead route to secure the gold and win his Olympic ticket.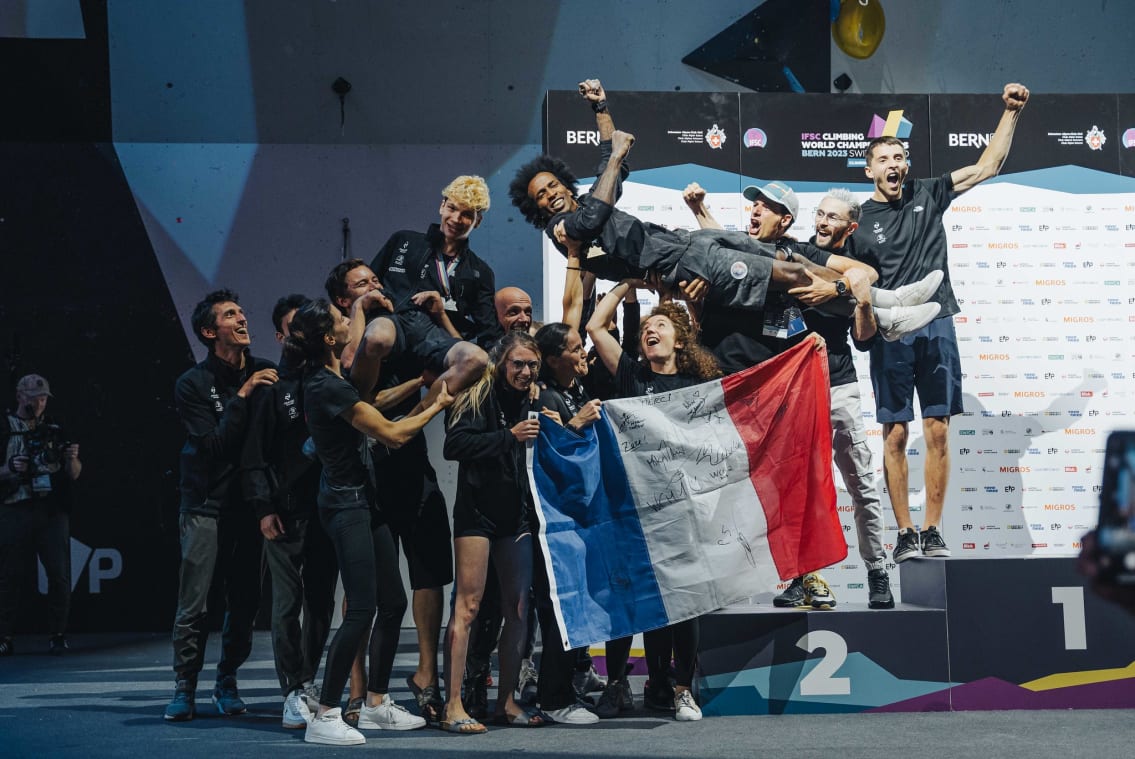 Oriane would perform similarly to Mejdi, coming second in Boulder behind Janja and in the top half of the semi-final round in Lead. In the combined Boulder&Lead, she did reach the final but struggled in a hard boulder round with only one top, which she couldn't make up for in Lead, finishing 6th overall. She was the highest place European outside of the podium, so she will be one of the favourites for the Laval European Boulder&Lead qualifier in October.
Sorato Anraku would not quite reach the heights of his expectations of him, but you would be hard-pressed to say he had a bad World Championship. He came 4th in Boulder after not being able to work out the last two dynamic climbs; 2nd in Lead, only a plus behind Jakob Schubert, and 4th in combined, 7.6 points behind Tomoa in 3rd place with 3 tops in the Boulder round and 3rd place in Lead.
The pressure was too much for young and old athletes as they made costly mistakes. Adam Ondra misread the Lead final route, making a route reading error and falling off low down, finishing 8th, the first time he has ever finished off the podium in a Lead World Championship. In Boulder&Lead, he made another simple mistake on the lead route on the lip of the headwall, facing off 5 holds away from the podium and an Olympic ticket.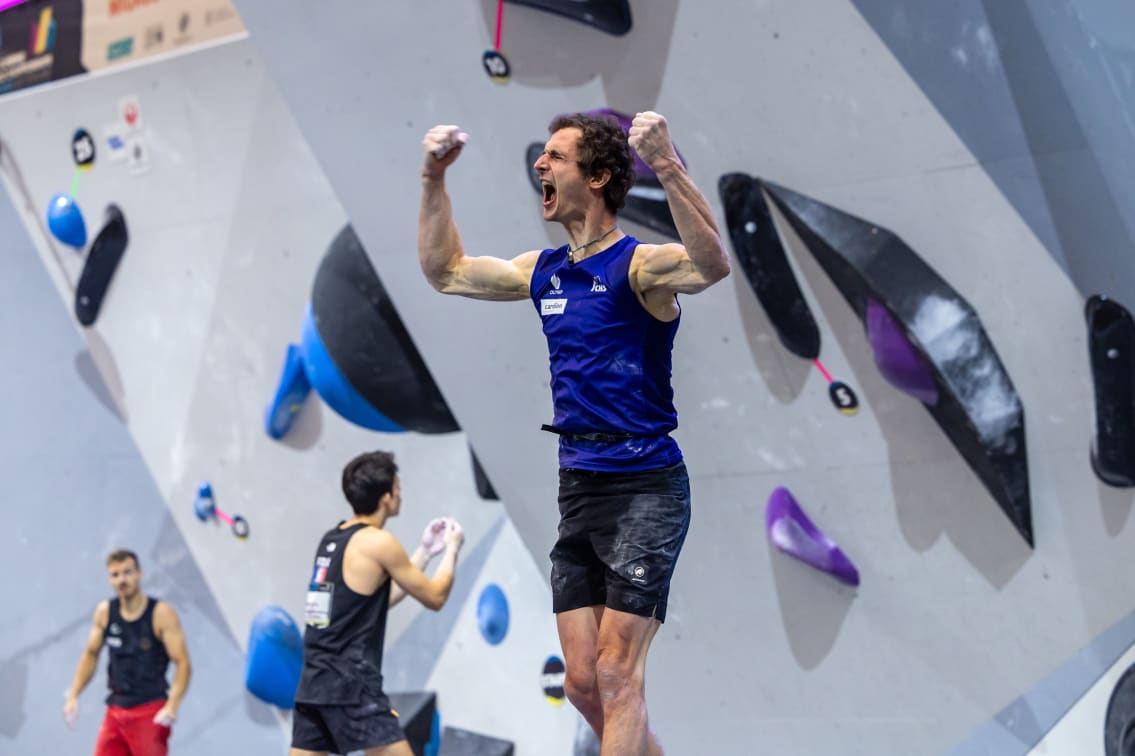 Toby Roberts would also struggle at Bern, with a Boulder semi-final performance he will be looking to forget, scoring one zone and finishing 19th. He had a strong semi-final in Lead, showing why he deserves his nickname "The Terminator" as he powered to first place. However, in the final, the laché move unsettled him. He would start swinging awkwardly and then slip out of the pockets, becoming the only athlete to fall on the move, finishing 9th. He would make up for some of this combined, finishing 5th, 5.7 points behind Sorato Anraku in 4th and 2.2 points ahead of Adam Ondra.
More Maths in Boulder&Lead
The new combined Boudler&Lead format requires even more maths than previously. While the format felt easier to follow in real-time as you could work out what an athlete needed to do, it did feel harder afterwards to understand what happened in each round. The total points did not tell the story of how well each athlete did on the boulders or how high up the Lead route they got.
The IFSC has set out what they expect from the Route setters for Boulder&Lead, including what points they want in each discipline. Let's look at how they did in Bern.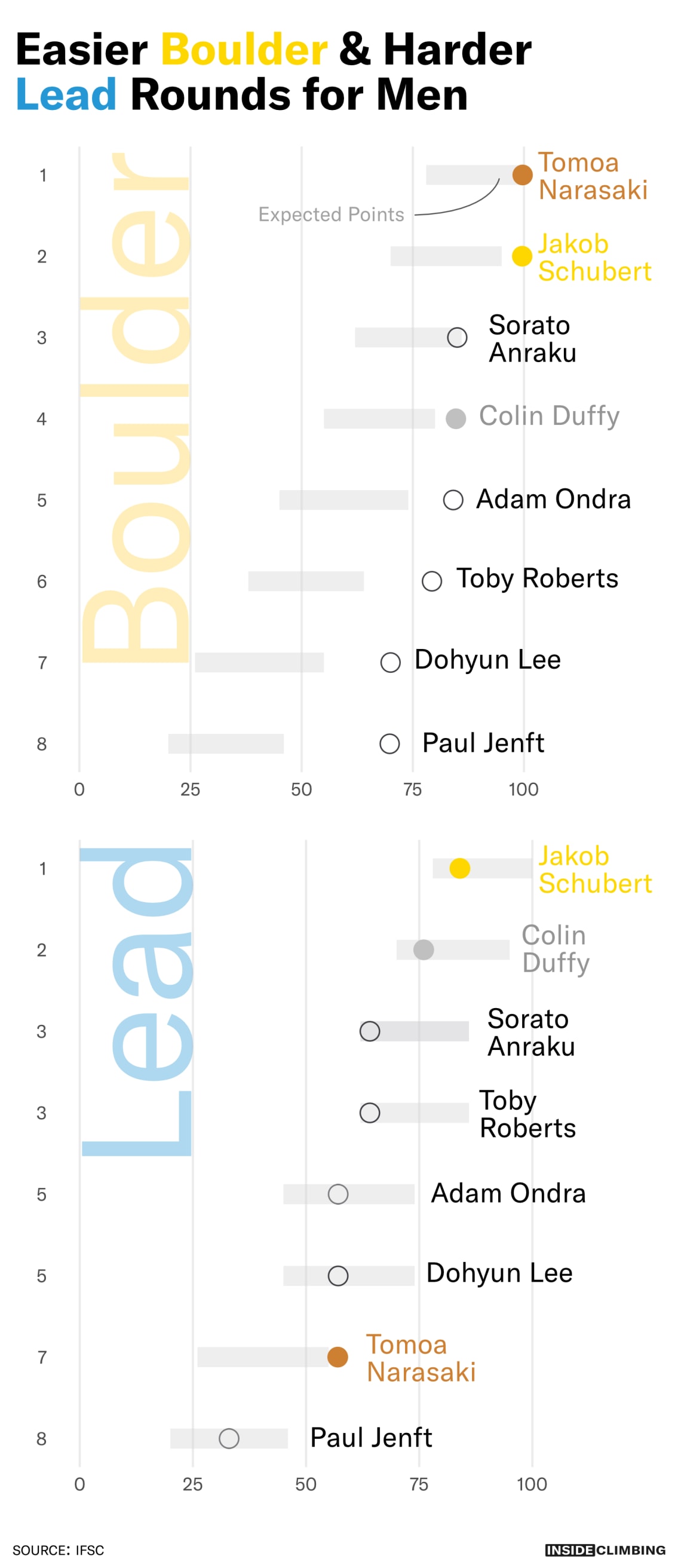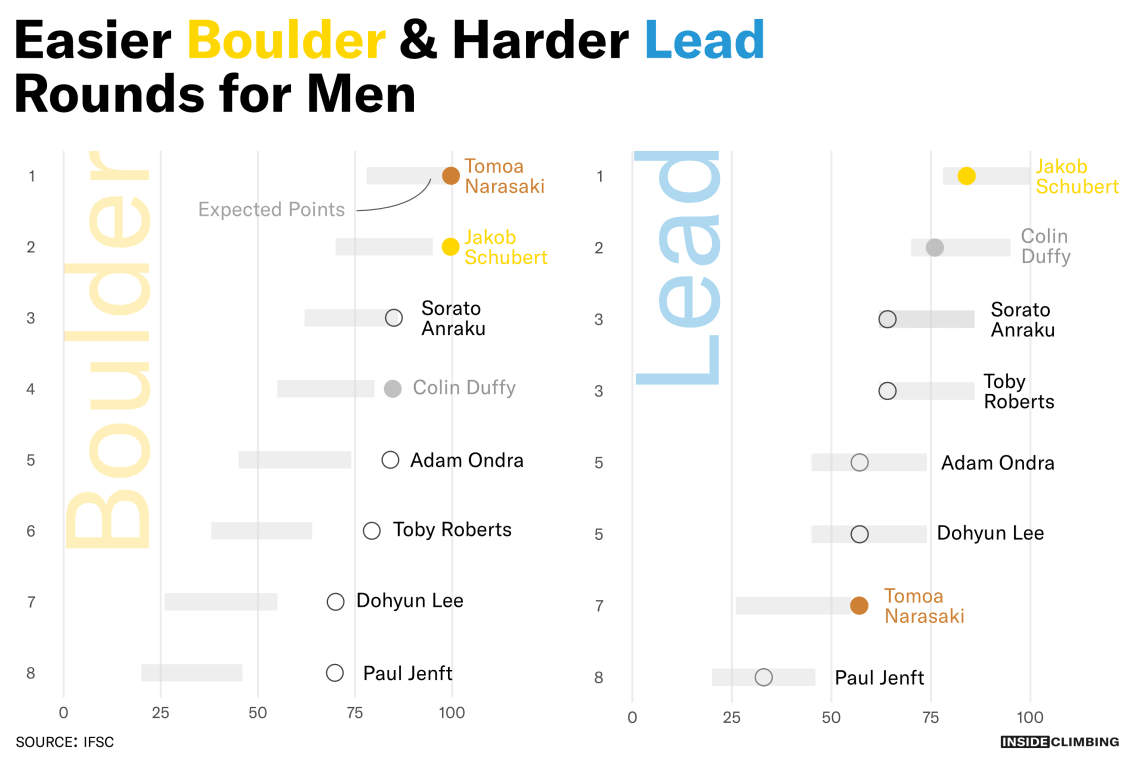 The men's boulder round was the only round substantially easier than expected, with 6 climbers getting more points than expected for their rank. Those who got the expected number of points were at the top end. The easier Boulder round meant that the final was decided on the difficult lead route, with only Tomoa scoring more points than expected for his rank, but only by one hold of points. He would have come third even if he had.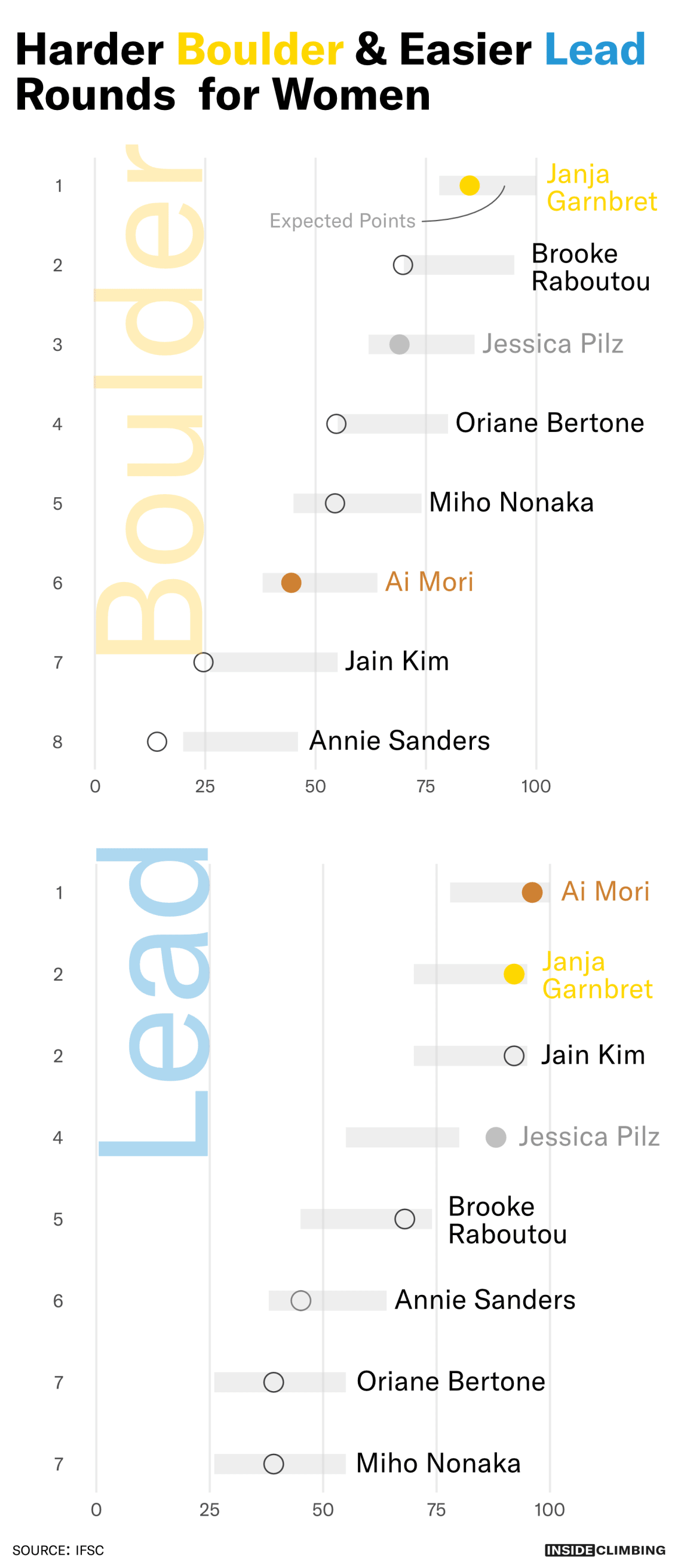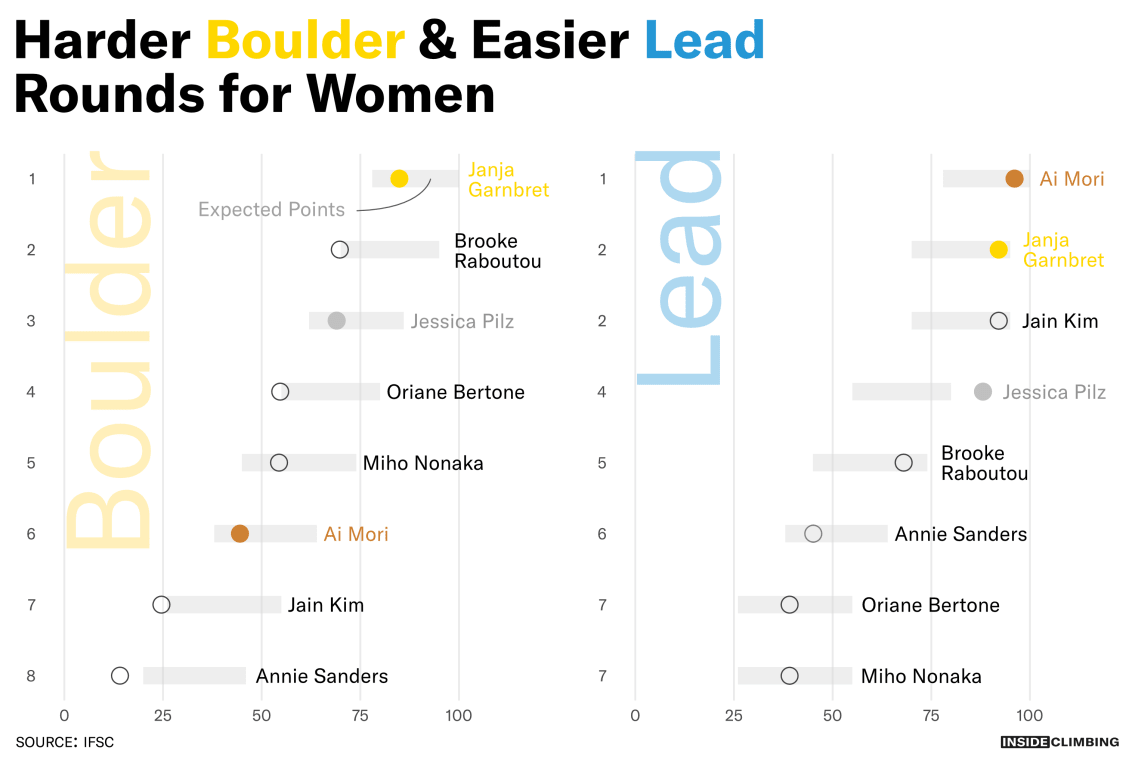 In the women's round, the route setters were more successful. In Boulder, though it was a hard round, athletes mostly got the expected points for their rank, with only Jain Kim and Annie Sanders getting fewer points than expected for their ranks. Although Brooke Raboutou and Oriane Bertone got fewer points than expected, they were only 0.2 and 0.3 points below the lower bound of expected points for their rank. In the Lead, Jain Kim and Jessy Pilz scored more points than expected for their rank.
So, the route setters mostly did what was expected from them. Both Men and Women had different boulder rounds, one easier and one hard, which were offset by the Lead, with an easier route for women and a harder route for men. With different setting teams for Boulder and Lead rounds, this combined is the ultimate challenge for the route setters. Many were wishing for a return to the old combined format. Let's compare the formats, ranking by the old multiplication scoring system.
Women Combined Ranking Comparison

| Athlete | Boulder Rank | Lead Rank | Points Score | Multiplication Score |
| --- | --- | --- | --- | --- |
| Janja Garnbret | 1 | 2 | 177 | 2 |
| Ai Mori | 6 | 1 | 140.6 | 6 |
| Brooke Raboutou | 2 | 5 | 137.6 | 10 |
| Jessica Pilz | 3 | 4 | 157 | 12 |
| Jain Kim | 8 | 2 | 157 | 16 |
| Oriane Bertone | 4 | 7 | 93.8 | 28 |
| Miho Nonaka | 5 | 7 | 93.5 | 35 |
| Annie Sanders | 7 | 6 | 69.7 | 42 |
Of all the athletes, Jessica Pilz benefitted most from the change of scoring system, with her falling to 4th in the old system compared to second in the new one. Brooke's 2nd in Boulder would allow her to rise to third. Ai Mori was the only other athlete to change, being second in the old system, which rewarded finishing first more than anything.
Men Combined Ranking Comparison

| Athlete | Boulder Rank | Lead Rank | Points Score | Multiplication Score |
| --- | --- | --- | --- | --- |
| Jakob Schubert | 2 | 1 | 183.6 | 2 |
| Tomoa Narasaki | 1 | 7 | 156.7 | 7 |
| Colin Duffy | 4 | 2 | 160.7 | 8 |
| Sorato Anraku | 3 | 3 | 149.1 | 9 |
| Toby Roberts | 6 | 3 | 143.4 | 18 |
| Adam Ondra | 5 | 5 | 141.2 | 25 |
| Dohyun Lee | 7 | 5 | 127.1 | 35 |
| Paul Jenft | 8 | 8 | 102.8 | 64 |
For the men, the only changes were Colin and Tomoa changing places on the podium, and the rest would keep the same rank.
Across both Men and Women, there were no ties using the old or new scoring system.
The Bern World Championship was a spectacle, with all the best athletes competing in the same competition for the first time this season. The pressure was incredibly high, and some thrived in the pressure while others faded. For a few, this was the end of their qualification journey to the Olympics with their tickets now in hand.
For many others, this was just another step on their path to the Olympics, with double points on offer for qualifying to the Olympic Qualification System next spring. Despite it feeling like the end of the season after the competition, there are still two Lead World Cups left and one Speed World Cup before we start on the second path to Paris: the Continental Qualifiers in the fall.